Los Angeles Times- A Guide to Healthier Protein Bars, Including One That's Keto-Approved
By KAVITA DASWANI   |   MAY 29, 2019
Protein bars are a beloved staple of the time-starved. They can be tossed into a gym bag, glove compartment or desk drawer and serve as an on-the-go lunch. But they can also be surprisingly unhealthy: Some have up to 20 grams of sugar, or are loaded with junk or chemicals.
"People pick up what they think is a healthy granola bar and it's really just a dressed-up candy bar," said New York-based registered dietitian Brigitte Zeitlin, owner of BZ Nutrition. "They can sabotage your health goals."
Newer to market are snack bars that do away with a lot of the extraneous ingredients, with a focus on whole, plant-based foods — nuts, seeds, fruit, oats. Some cater to those on specific plans, such as the keto diet; others are directed toward those seeking to boost cardiac health; and others use collagen and greens as a base.
Zeitlin said there are a few critical things to look for in a protein bar: The total sugar content should ideally be in the single digits; the bar should have at least three grams of dietary fiber to keep you satiated; and the first few ingredients should be a whole food — nuts, seeds, oats, etc. Even chocolate is fine, as long as the sugar content remains low, she said.
Here are some new-to-the-market bars to consider:
Step One Foods, launched earlier this year, bills itself as an on-the-go food brand. It and now includes three bars: "I treat the downstream effects of poor diet," said founder and cardiologist Elizabeth Klodas. "I was taught to prescribe drugs. But when you peel it back, it's about what people eat."
The bars include a Dark Chocolate Crunch Bar, made from ingredients like chia and flax seeds mixed with bittersweet chocolate, nuts and dried fruit. "The ingredients were chosen for their cardiovascular properties," Klodas said. "Every one has been studied." She said the bars are designed to act as meal substitutions, ideally for breakfast.
I was taught to prescribe drugs. But when you peel it back, it's about what people eat. -ELIZABETH KLODAS
The Kalumi Beauty Food Collagen Protein Bar contains ingredients such as cashews, sweet potato and cocoa butter, enhanced with 12 grams of marine collagen (derived from fish, so this is not vegan). The bars, in flavors such as Lemon Love and Cheeky Chai, are sweetened with yacon, a plant grown in South America. The selling point? Collagen has proven benefits for hair, skin and nails.
"We didn't want to use conventional sugars at all," said co-founder Chrissy Blair. "A lot of bars are highly processed and we wanted to avoid all those unnecessary ingredients."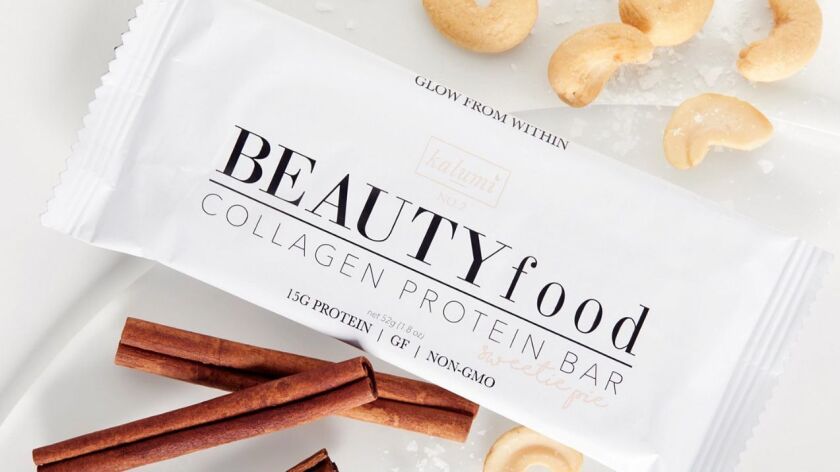 Info: Approximately 6 grams of sugar and 220 calories. $54 for a box of 9. kalumibeauty.com
Dawn Anderson, founder and CEO of OHi Food Co., said she used to live on protein bars thinking she was doing something healthy for herself, before realizing her favorites weren't all that good for her. Based in Costa Mesa, the brand makes plant-based, grain-free bars that must be refrigerated, including Coconut Macadamia (macadamia nuts, almond butter) and Double Chocolate (almonds, cacao, unsweetened chocolate and cherries), both sweetened with coconut nectar. The Super Green bar has goji berries, mulberries, spirulina and chlorella.
Berkeley-based Dang Foods, which makes Asian-inspired coconut and sticky rice chips, launched its Dang Bars in March. The bars — in flavors such as Cardamom Chai, Toasted Coconut and Cinnamon Chocolate — are made from almonds, chicory root fiber, pea protein and sunflower seeds. Dang Bars are high in fat and protein and low in carbs, designed for those following the keto regimen.
Original Article: https://www.latimes.com/health/la-he-protein-bars-keto-nutrition-20190529-story.html